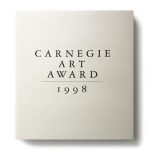 Lotte Sandberg
Interview with Torsten Andersson
Ulrika Levén (ed.): Carnegie Art Award 1998, Stockholm/Värnamo, 1998
Torsten Andersson resides in Skåne, between trees that might have been in a painting by Carl Fredrik Hill and beneath a sky with cloud formations that might have been signed Prince Eugen. Andersson, however, makes it clear that he is to be found on this side of the monochrome painting.
Lotte Sandberg: What do you mean when you say that you place yourself on this side of the monochrome?
Torsten Andersson: The 60's brought with them an insight linked to the end of painting. It became impossible to paint, Yves Klein represented the final stroke. I began to make minimalist sculpture – boxes. After several years, I found that I could paint portraits of these boxes. In this way I was able to take up painting again without being reactionary or traditional. Through these portraits, where I place the motive in the middle of a white surface, I want to negate modernism's, and primarily Cubism's, arranging of events over the entire surface.
LS: How does the artistic process develop?
TA: I draw for a long time, joining together small forms. Just as mathematicians examine chance, I am interested in various constellations, continually surprised by new forms and relationships. I always use pure colours because I consider myself more of a sculptor than a painter.
LS: You once described yourself as a twenty-year old, that you were obsessed with nature and symbolist art – what are you obsessed with today at seventy-two?
TA: Language. I work with the remains of the monochrome painting and will continue to do so. Many artists strive not to repeat themselves, while I strive to repeat myself.
LS: Where is painting headed now?
TA: We are in a new epoch. It has lasted nearly thirty years, but we still don't know what it is about. Yves Klein flew, now we're about to land. I was unable to relate to 70s realism or the expressionism of the 80s. Something of what is new today may be seen in the Guggenheim museum in Bilbao, where the architect has worked with an incredible silhouette and managed to unite this with a practical purpose. This is new and perhaps important to painting. On a couple of occasions, I have rendered a maple tree outside my studio. I have gathered the form in the centre, focused on the silhouette, and created a unity between contour and volume, exterior and interior. This breaks with modernism. This is new.
Fall 1998